Marketers are always on the hunt for new, creative ways to engage their audience.
From blogging to video marketing, live events to email nurturing, you know that there are plenty of ways to connect with your leads and current customers at every stage of the customer journey.
Perhaps none is quite as effective as a great webinar. According to GoToMeeting, 73 percent of B2B marketers and sales leaders agree that webinars are their best source of high-quality leads. It makes sense why; companies that take the time to conduct market research and put together a webinar that speaks to their customers needs benefit from:
Demonstrating knowledge and authority on a topic that matters to their target audience.
Positioning their product or service as a potential solution to that problem.
Collecting key customer data that they can use for future marketing purposes.
Nurturing leads further down the sales funnel.
Plenty of large corporations already know the value of a market research-driven webinar. But surprisingly few smaller B2B organizations are taking advantage of this incredibly effective marketing tool. Often, marketers may feel that organizing, promoting, and measuring the success of a webinar may be out of reach for their organization.
The truth is that if you do the marketing research beforehand, any B2B company can run a webinar that yields positive results.
That is why the ReachForce team put together this article to help you either launch your first webinar or improve the webinars you are already producing.
Before diving into some helpful tips, let's touch on an important question.
Why Are Webinars Such an Effective Marketing Tool?
On the surface, it is often difficult to understand why exactly webinars can be such a great marketing tool. First of all, they are very time-intensive. Planning, promoting, and conducting webinars takes a ton of legwork from your team and one slight miscalculation, like scheduling it on the wrong day, can turn it into a disaster.
Second, webinars ask a lot of your audience. Think about it; you are asking a potential customer who may not know a thing about your product to spend 30-45 minutes listening to you talk. Every marketer knows that people have short attention spans. Webinars seem counterintuitive to what your audience actually wants.
Yet, up to 40 percent of webinar attendees turn into qualified leads. And 57 percent of marketers say they plan to conduct more webinars in 2018. So clearly, webinars work. The reason why isn't all that surprising; when you take the time to research what is important to your customers and then present on it, people are going to want to listen.
Once they see you understand their pain points (and that your company can help solve their problems), webinar attendees become some of the most sales-ready leads in your pipeline.
However, a successful webinar does not just happen. Here are nine things you need to do as a marketer to ensure your next webinar becomes a successful marketing tool and not a complete flop.
9 Steps to a Successful Marketing Webinar
#1. Conduct your marketing research first.
There is one simple rule to a successful webinar: you cannot just wing it.
That rule starts at the very beginning and applies to each stage of the process. Marketing research guides the early decisions you make about your webinar, including:
The topic
Who should host it (sales, marketing, a guest, etc.)
Who you should invite
Where, when, and how to promote it
Your CTA (i.e. the "next step" for webinar attendees)
Perhaps most important among these is, of course, the topic you choose. Many companies make the mistake of choosing their webinar topic based on anecdotal information, not hard data. But if you are already collecting customer data, there is no reason to take such a risk. Analyzing your top-performing content and adapting it to a webinar format is an easy way to ensure you are set up for success. You can also conduct marketing research by analyzing what your competitors are doing. What types of content do they produce? Do they have any recurring webinars (a clear indication that the format is working for them)?
There are plenty of ways you can leverage existing data to ensure your webinar is not a dud. The point is, make sure you do the legwork ahead of time. It will pay off for you in the long run.
#2. Consider bringing in an industry expert to co-host.
If you are a smaller B2B company, a big concern may be generating enough hype and attendees to make a webinar worth the time and financial investment. Considering only 40 to 50 percent of webinar registrants actually show up, most companies need to gather a pretty significant crowd to see ROI from a webinar. One of the easiest ways to do that is to bring in an industry expert to co-host the webinar with you.
Involving an influencer in your webinar does two things for you. First, it automatically adds credibility to your business. The influencer may not be a household name, but if it is someone who clearly understands the ins and outs of your industry, his or her presence gives you an immediate boost to your reputation.
Second, influencers act as an auxiliary promotional tool. When influencers promote your webinar on their social channels, you can see a significant boost to your webinar attendance despite the fact that many attendees may not know about your business (yet).
#3. Choose the right day, time, and length.
As a general rule, the best days for webinars are Tuesdays, Wednesdays, and Thursdays according to Smart Insights. WebinarNinja says that statistically, you should aim to hold your webinar between 11:00 am and 2:00 pm in your local timezone. No need to worry about international attendees or people still asleep on the west coast — that is what the recording is for.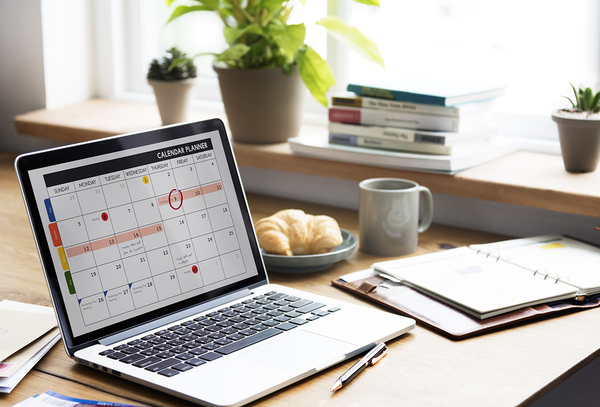 As far as length goes, make sure to keep your webinar under an hour, ideally 30-45 minutes. Many companies find that the sweet spot is 30 minutes of you presenting content and then 10-15 minutes of open questions from attendees.
#4. Promote, promote, promote!
You are a marketer; obviously, you know promoting the webinar is critical to its success. This is another area where that marketing research really comes in handy. Knowing where, when, and how to get the word out about your upcoming event ensures you have an audience. The key here is to start three to four weeks ahead of time. Fifteen percent of registrations come through during that initial promotional window, so starting early definitely helps boost attendance.
The majority of marketers use email as a primary way to get the word out about upcoming sessions, but it becomes an especially important tool when it comes to reminding enrollees to actually attend the course. Send reminder emails out all the way up to the event — even just hours before the webinar is set to kick off.
#5. Keep registration forms short.
At ReachForce, we know that one of the biggest lead generation barriers for some companies is long lead capture forms. Reducing the number of fields in your lead capture forms to under four increases conversions by 160 percent. Obviously, this can be tough when you want to collect critical data for marketing research.
That is where ReachForce SmartForms lends a huge hand. Our lead capture forms allow marketers to limit their fields to maximize conversions without missing out on any of the data they need for marketing research purposes. SmartForms enrich inbound customer data with third-party information to create a complete view of your webinar attendees in real-time.
#6. Focus on quality content.
Up to this point, each step has been about driving traffic to your webinar. Once you have attendees, it becomes just as important to actually deliver on a quality presentation. Attendees do not necessarily mean qualified leads. To convert those attendees into leads (and eventually customers), you need to be creating high-quality content.
But, what exactly makes great webinar content?
Focus on visuals. Text-heavy presentations will put everyone to sleep and do not translate for the 65 percent of people who are visual learners.
Be data-driven. For many webinar attendees, you are still in the early stages of building trust. Providing anecdotal evidence or advice will not cut it — you need hard data to support your claims.
Stay true to your topic. With a large, captive audience, it may be tempting to stray off and try to highlight other areas of your product or service. Avoid the temptation and stay on topic; your audience will appreciate it.
#7. Leave plenty of time for questions.
Audience participation throughout the presentation is a key component of a successful webinar. Be sure to leave designated time at the end of the presentation for questions, too. If you have done a good job of delivering high-value content, chances are good that the audience will have a few follow-up questions. However, here is a pro-tip: create some fake questions of your own that you can throw in if you get radio silence from the audience. It does not feel good to end a webinar 10 minutes early because no one has questions; create your own to keep the conversation going.
#8. Don't forget your CTA.
A webinar is rarely a bottom-of-the-funnel sales technique. Chances are good that you are using webinars to move leads along the customer journey. That is why directly telling them that next step in the process is so important. Whether it is a blog, a downloadable whitepaper or case study, or even another webinar, make sure you have a direct call-to-action at the end of your presentation so that attendees know how to keep the ball rolling.
#9. Follow-up immediately with a survey.
Finally, one of the best ways to both qualify leads and improve your future webinars is to send out a quick survey to attendees directly following the presentation. Based on the responses you receive, you can quickly pass along sales-ready leads to the sales team while also positioning other potential leads into your various nurture streams. You can also collate feedback and use it to make data-driven improvements to your next webinar.
Conclusion
Webinars are a proven way to generate leads and drive revenue growth. To learn more about how ReachForce SmartForms can help you optimize lead generation and improve your impact on revenue, get your free trial today.