It is no secret that outbound marketing strategies remain an essential tool in every great marketer's belt.
As the ReachForce team shared last month on the blog, when powered by data (and supported with a good data management solution), traditional marketing can help enable successful digital campaigns.
There may not be a better demonstration of that than with event marketing. Admittedly, of all the traditional marketing methods out there, in-person events may seem the most archaic in today's digital age. After all, the vast array of communication tools available have minimized the need for in-person client meetings, and they have also decentralized company headquarters and enabled an entire remote workforce.
Even still, 31 percent of marketers say event marketing is their single-most effective channel for communicating with clients, proving this age-old truth known to most marketers and salespeople alike:
There is no substitute for sitting down and having a face-to-face conversation with someone about their needs and your product.
According to Frost & Sullivan, companies spend over $500 billion on event marketing each year with 50 percent of brands leveraging events primarily for lead generation and brand community building. While measuring the ROI of event marketing has historically been a challenge for many companies, the rise of big data has enabled organizations who spend heavily on event marketing to expect 5:1 returns on their investment.
At ReachForce, we know a great data management solution can be key to your event marketing success. So, we put together this post to demonstrate how event marketing and data management work hand-in-hand to produce tremendous results for brands, including some initial steps you can take to make the most of your next event.
Before we dive into that, let's tackle a simple question upfront.
What Exactly Do We Mean by "Event Marketing"?
Essentially, event marketing can be categorized as any opportunity where your brand can engage your target audience face-to-face. Virtual events are on the rise as well, though their effectiveness in comparison with live events is still up for debate.
For B2C marketers, those live events can range from a local farmer's market all the way to a massive conference. On the B2B side, event marketing is traditionally associated with conferences and trade shows, where a high-volume of potential leads congregate to disseminate industry news, trends, and ideas while also getting a first-hand preview of the products and services that enable their businesses to succeed.
While the range of events may be more limited on the B2B side, your involvement in those events can vary from an event marketing perspective. Opportunities at conferences and trade shows often include:
Maintaining a booth with information about your products or services
Hosting a seminar or talk about an industry trend or best practice
Full event sponsorship
Individual breakfast, lunch, or "happy hour" sponsorships
Of course, your level of exposure to your audience is often commensurate with your investment in sponsoring the event. According to Sponsez, the average sponsorship contribution is approximately $12,000. That does not include costs of travel, lodging, and food for your team's participants, which will inevitably increase your overall spend on an event.
All in, event marketing is often no small investment. Which means marketers are eager to see tangible returns in order to justify the budget spend. However, measuring those returns has historically been a challenge.
Despite the fact that 64 percent of marketers believe live events are primarily beneficial for customer acquisition, only 14 percent believe they are a place for closing deals. In other words, events are a great source for lead generation, but you cannot measure an event's success based on sales made on the trade show floor.
Instead, marketers should look at collecting customer data into a data management solution during live events and then leveraging that data to nurture leads post-event.
Event success should correlate first to leads generated. Closing a deal on a busy trade show floor is not only unrealistic, it is likely also a disadvantage for your business. Live events are all about volume and extending your reach to a broader audience. With that in mind, spending excessive time with any single potential client means you are naturally missing out on potentially garnering interest from other leads walking by your booth.
The idea should be to collect as much high-quality data as possible into your data management solution and then use that data to move leads further down your sales funnel after the event. Later, event success can be measured based on the overall conversions made, but only after the event and your company's normal length-of-sales-cycle have passed.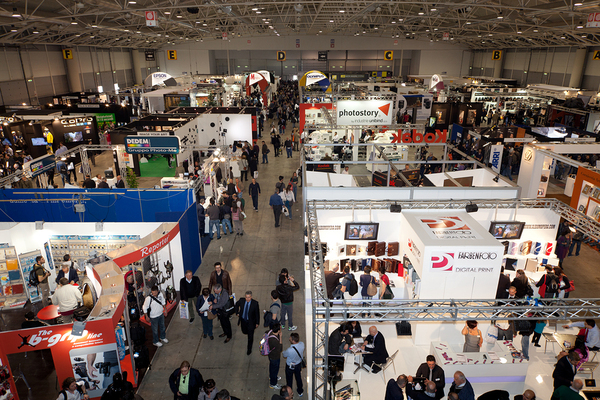 With that methodology in mind, let's look at the best strategies for collecting high-quality data through event marketing.
Data Management Best Practices for Event Marketing
You spent $10,000 to host a booth on a trade show floor. The morning session just broke for lunch and thousands of prospects are flooding through the maze of potential vendors.
What are you doing to attract prospects to your booth and convert them to leads as quickly as possible?
The attraction piece completely depends on your brand. There are plenty of strategies out there for bringing attention to your exhibition booth. How you reel in prospects in real-life often mirrors the digital strategies you would use to attract prospects online. You might use things like:
Answering an important industry question
Addressing a widely-known but under-served pain point
Humor and wit in your messaging
Personalization
Giveaways and special offers
Each has a place and serves its own purpose. Figuring out which works best for your business is part of the challenge (and, dare we say, the fun) of event marketing.
The universal component of event marketing for all businesses is what to do with the prospects once you have their attention. Again, the goal here should be to collect the important customer data you need as quickly as possible. If you are using clipboards and sign-up sheets or manually entering leads into a CRM, simply put, you are wasting time.
Best Practice #1: Collect Only the Customer Data You Absolutely Need in the Most Efficient Way Possible
It is here that a tool like SmartForms really adds some value for event marketers. Streamlining the data collection process means you have more time to talk to more prospects. SmartForms can be quickly integrated onto a landing page accessible via mobile devices where interested parties can efficiently enter their own name and contact information directly into your data management solution.
Because SmartForms enriches inbound customer data in real-time, you can skip the long lead capture forms and focus on collecting just the bare essentials from your new leads. SmartForms leverage third-party data sources as well as existing information from your data management solution to create a full composite view of your new potential customer, including:
Name
Contact information (telephone and email)
Location
Company and job title
Company size, industry, and revenue
Current technology landscape
Account history
Shorter lead capture forms mean fewer prospects abandoning the form and faster data collection, allowing you to speak with more leads in less time.
With that data now in your data management solution, the ball is now in your court to effectively nurture and manage those leads toward conversion.
Best Practice #2: Follow-up with All Leads Within 24-Hours of the Event
This may be the most important step in making event marketing worth your time and financial investment. A study from Salesforce found as many as 80 percent of exhibitors do not follow up with trade show leads after the event. That is unacceptable. Ideally, leads should receive an automated email from your team the moment they complete a lead capture form. That email should thank them for their interest, link them to your website, and provide some contact information for a sales representative should they like to speak with someone immediately. It should also highlight that a representative of your team will be reaching out within 24 hours of the event to schedule next steps.
That second follow-up email serves a few different purposes. First, it re-engages the lead back in their native environment, not on the floor of some huge hotel, but in their office where they can actually think, research, and feel confident in making decisions. Second, it sets you apart from — as previously cited — up to 80 percent of your competitors who might never check in with a lead after that initial conversation at the conference.
Finally, it allows you to better assess the viability of your leads as potential future customers. That is where the next data management best practice comes in.
Best Practice #3: Score and Segment Your Leads
All leads are not created equal. However, at live events, it can often feel that way. People are far more likely to politely listen to your pitch and fill out your lead capture form when face-to-face. That does not necessarily mean they are "hot leads" when they get back behind the safety and relative anonymity of their computers at work.
Just as you cannot send every inbound lead from digital campaigns directly through to your sales team, live event leads need to be scored based on demographic and behavioral data, too. Part of your lead score might account for the potential customer's company size or location (information supplemented by SmartForms during the lead capture process). The rest may come from their response — or lack thereof — to your post-event follow-up. Those leads who quickly respond and are eager to get the ball rolling should be passed along to the sales team immediately. Those who ignore the message or perhaps seem further up in the sales funnel should be segmented and placed into nurture campaigns to move them along the customer journey.
Best Practice #4: Continue to Collect Lead Data and Use It to Shape Future Event Participation
As leads move along your sales process, it is important to continue collecting data on their behavioral activity and conversion rates. Not only does that data help shape your nurture campaigns, it also should influence future event marketing decisions. If, for example, your data reveals that event sponsorship equates to a lower lead conversion-rate than just hosting an exhibitor booth despite the higher cost, than you know it likely is not worth the additional investment to sponsor future events.
Furthermore, event marketing may reveal previously unknown insights about your target audience, too. Live events can be a great source of ideas for future product developments and improvements as well as the right marketing channels and messaging to reach your customers.
All of this comes from collecting high-quality data through a great data management solution.
To learn more about how ReachForce SmartForms can help you optimize lead generation and improve your impact on revenue, get your free trial.