Today's vast array of marketing technology has enabled the collection of customer data at a whole new level. Marketers now know more about their target audience than ever before. Names, contact information, location, and other demographic data are just the tip of the iceberg today. Now, everything from a customer's interests and hobbies to their shopping habits can be collated and quantified by savvy marketers using the latest in marketing technology.
However, the protection of that data from malicious hackers and less-than-reputable marketers has become a top concern among the general public. The European Union's Global Data Protection Regulation (which goes live on May 25, 2018) takes aim at enforcing a new level of privacy protection for EU citizens. Even in the U.S., privacy concerns have created a rift between companies who use data to create a better customer experience and the customers themselves.
Bridging that rift poses an interesting challenge — and dare we say opportunity — for smart marketers. If the lawless, "wild west" days of data collection are over as a result of consumer demand, than being on the right side of this historical moment gives your company an opportunity to establish trust and loyalty with your target audience.
Here are a few ways data privacy and protection can be used in your favor to better your brand reputation.
#1. Be transparent about how you intend to use customer data.
Companies that value privacy protection take active steps to highlight exactly how they intend to use the information they collect from customers. Of course, that does not mean stamping your lead capture forms with a disclaimer that says "this data will be used to improve marketing campaigns and sell you more stuff." Instead, it is about positioning data collection as a benefit to the consumer. Highlight how your company uses customer data to provide a more personalized shopping experience or to deliver customized offers. Doing so gives your customers an incentive to provide the information you need while also clearing up any concerns about inappropriate data use.
#2. Always offer an out (without repercussions).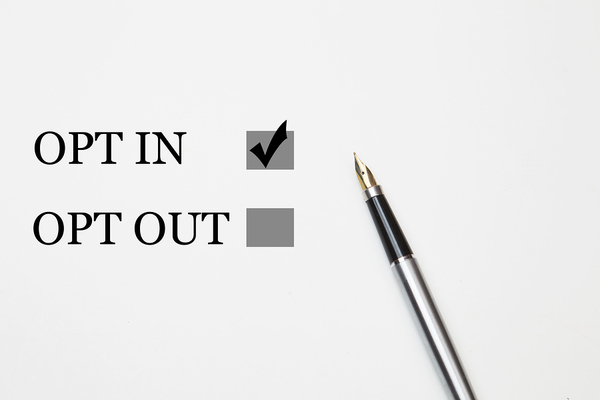 It is essential to give an opt-out option to those customers who do not feel comfortable providing data or want to rescind their permission for you to access their information. Doing so lets your customers know they are fully in control of their own information. The key here is to ensure there is no repercussion for electing not to offer information. Gating content behind extensive lead capture forms is becoming increasingly unpopular with today's privacy protection concerns. Again, the focus should be on demonstrating the value in providing information — not pressuring customers to do so in order to benefit from your content.
#3. Highlight the steps you are taking to protect customer information.
Privacy policies have a history of getting buried deep within your company's site index. With the current state of privacy protection, highlighting the ways your organization works to protect customers builds trust and long-term loyalty with your audience. One of the areas to highlight is the use of a high-quality data management platform like ReachForce. Our platform is fully GDPR-compliant, so whether you do business in the EU or not, your customer data is managed in accordance with the most up-to-date standards of protection.
ReachForce helps marketers increase revenue contribution by solving some of their toughest data management problems. We understand the challenges of results-driven marketers and provide solutions to make initiatives like marketing automation, personalization, and predictive marketing better. Whether you have an acute pain to solve today or prefer to grow your capabilities over time, ReachForce can unify, clean, and enrich prospect and customer lifecycle data in your business, and do it at your own pace.
To learn more about how ReachForce can help you optimize demand generation and your impact on revenue, get a free data assessment and get a demo today.